As a homeowner, it is normal to envision the outdoor space of your dreams. After all, you've worked hard to be able to purchase your residence, and customizing your property is the most exciting part. But before you invest in residential landscaping, it's crucial to consider the resale value of your home.
Much like interior design elements, the landscaping choices you make today will impact how potential buyers evaluate your home in the future. Far too often, homeowners follow through on landscaping ideas that are appealing to them, only to discover they aren't going to get the return on their investment they'd originally hoped for.
So, how can you be sure you're choosing a landscape design that will increase the value of your home? And which landscaping tips should you be keeping top of mind?
In this blog, we'll cover five landscaping best practices that add financial worth to residential properties, and share our professional recommendations for getting the most bang for your buck.
Ready? Let's do it!
A DAZZLING DECK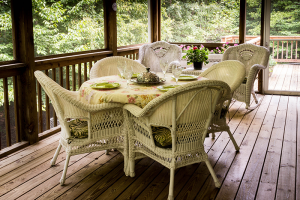 Did you know that homeowners who install a 16-by-20-foot pressure-treated wooden deck onto their house recoup an average of 85.4 percent of their investment? It's true! Decks are one of the most value-adding elements of outdoor living spaces.
But before you begin, remember that not all decks are created equally. Using weather-resistant materials that require little maintenance will increase the value of your deck even more. And while they may beef up the cost of your build initially, you will reap the reward later when your property is sitting on the market.
Consider using materials like PVC, IPE , or composite decking for long-lasting options that potential buyers will appreciate. These materials require less upkeep, and provide more years of outdoor entertaining, fun and relaxation. Something every home buyer looks forward to!
A WARM PLACE TO GATHER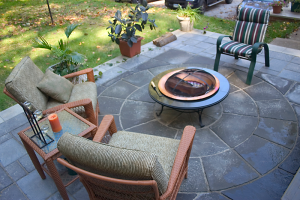 Outdoor fire pit areas are a major selling feature. Potential homebuyers love to imagine themselves sitting around the glowing warmth of the fire with family and friends, making smores or just listening to the crackling of burning wood.
But the appeal of outdoor fireplaces is equally as enjoyable for sellers. In fact, in a survey conducted by the American Society of Landscape Architects, 97 percent of homeowners ranked fire pits and fireplaces as their number one most-wanted small backyard design idea.
The bottom line? Outdoor fireplaces are a highly-desired residential landscaping feature, making them a safe bet for added home value.
Interested in adding one to your yard? Check out this list of stunning fire pit designs to gain some inspiration!
A FUNCTIONAL STONE WALKWAY
Hardscapes are a fantastic way to bring a sense of professional pizazz to your outdoor living area. They enhance curb appeal and make accessing the various elements of your yard less cumbersome.
Additionally, natural stone walkways are extremely low-maintenance, lasting for decades after they've been installed. Why is this important? Because potential homebuyers don't want to think about repairs or home projects they'll have to undertake if they purchase a specific property. They want to enjoy peace of mind, which permanent, expertly-design hardscapes can provide.
Lastly, there are endless ways to turn stone pathways into works of art. Don't believe us? Check out our stonework portfolio for examples of creative, skillfully-designed hardscapes that add that perfect finishing touch to any space. It's just one of the services we offer that sets us apart from other Landscapers. Visit our Edmonton page for more information.
A FRESH NEW TURF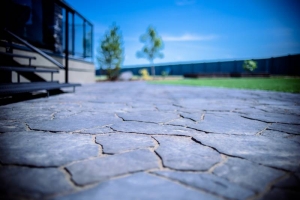 Without question, the condition of your property's lawn is one of the first things a potential buyer will notice about your yard. Most landscapers see it as the ultimate first impression, as the lawn is often seen as a representation of how well a homeowner has cared for other aspects of their home.
So what are we getting at, here? In a nutshell: your lawn should always be in immaculate condition. The more lush and manicured your grass is, the more intrigued potential buyers will be. And as we all know, curb appeal is paramount when it comes to securing an offer you'll be pleased with.
Still not convinced? Statistics show that a home with outstanding landscaping will see a 5 percent increase in offers compared to a home with average landscaping. That's significantly more cash in your pocket! Why not check out our sodding services to learn more about how we bring a meticulous level of perfection to residential landscaping in Edmonton?
A BRIGHT, LUMINOUS FINISHING TOUCH
Nothing completes an outdoor living area like strategically-placed lighting. It's adds both practicality and charm to any space. Without it, the artistry of your landscaping goes unnoticed after dark, and utilizing your yard becomes more difficult in the later hours.
At Terra Nova Alberta, we pride ourselves on being an Edmonton landscaping company that understands the impact outdoor lighting can have on the overall appeal of a project. That's why we only order high-end, top-quality products from some of the world's leading suppliers.
We see lighting as the final step in creating visual appeal that will last a lifetime. Whether it's brightening up the dark corners of your yard to make it appear more expansive, or highlighting a specific feature so you can take in its beauty at any time of day, our seasoned Edmonton landscapers know how to give you a final product that exceeds your expectations.
And as for resale? You'll be impressed with that, too! More than half of home buyers surveyed by HousingEconomics.com stated that outdoor lighting was one of their most wanted features, making it a smart choice for any homeowner looking to increase the value of their residential property.
Interested in adding value to your home with expertly-designed landscape features? Contact us today for a free quote!